Chartered Financial Analyst

Chartered Financial Analyst
"If you're looking for a passport to a competitive career in the quickly evolving world of investment and global finance, you should know about the CFA charter."

If you are interested in the CFA Program, please have a look on CFA websites, or continue in reading here below. 
To get continuously updated information about the CFA Program and its deadlines, click on this Facebook event – ISTI – Certificates. You will receive then as notification all information about deadlines and new enrollments. You can also simply have a look in our calendar by clicking on the icon next to.
Would you like to Apply for CFA Scholarship (within CFA Insitute University Recognition Program) provided by the University of Economics for students of Master programme of Faculty of Finance and Accounting? 
Each recognized institution that agrees to promote the CFA Program and attests to its promotional activities will be eligible to receive three student scholarships per fiscal year as detailed in the Awareness Scholarships Official Rules. Eligible universities that have a full-time professor who holds the CFA charter1 may receive two additional scholarships, for a university maximum of five scholarships.
Full-time is defined as teaching at least 6 credit hours per quarter or semester, or an Administrator teaching a minimum of 3 credit hours per quarter or semester. Must be a CFA charterholder in good standing and not in a Retired membership status.
About CFA
CFA Institute is a global community of investment professionals working to build an investment management industry where investors' interests come first, financial markets function at their best, and economies grow. We are driven by the belief that lasting economic growth depends on trust, competence, and transparency in financial markets, and we know that it must be led by professionals who are ethically centered and professionally trained. In short, we are here to lead, support, and connect all who want to create a better investment industry.
Top employers of CFA charter holders globally
Bank of America, Merrill Lynch, Citigroup, Credit Suisse, Deutsche Bank, HSBC, JP Morgan Chase, Morgan Stanley Smith Barney, RBC, UBS, Wells Fargo …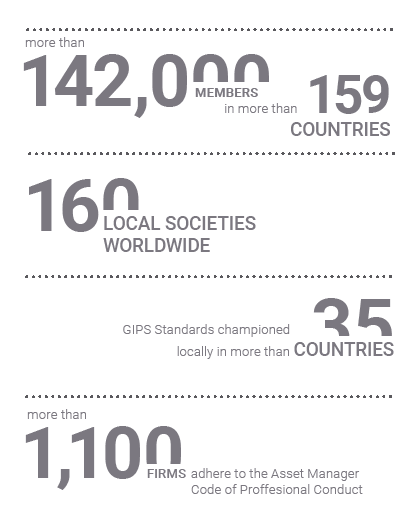 Chartered Financial Analyst
The Chartered Financial Analyst® (CFA®)
credential is the most respected and recognized investment management designation in the world. The curriculum covers academic theory, current industry practice, and ethical and professional standards to provide a strong foundation of advanced investment analysis and real-world portfolio management skills. A work experience requirement and an annual ethics statement ensure career-long professional excellence by those who have earned the CFA charter.
Why choose the CFA Program?
Earning your CFA charter you will get valuable knowledge, you make yourself more competitive on the job-market, especially abroad if you would like to work outside of Czech Republic and you do not have university education from abroad.
REAL-WORLD EXPERTISE Demonstrate your fluency with an advanced investment management and analysis curriculum that leverages current best practices and the experience of practitioners around the world to bridge real-world practices and theoretical knowledge.
WORLDWIDE RECOGNITION Stand out in the competitive global industry and gain instant credibility with peers, employers, and clients who know the hard work, intelligence, and profound commitment it takes to earn the charter.
ETHICAL GROUNDING Learn to apply ethical practices and gain a foundation of the skills needed to demonstrate the commitment to high standards of accountability and integrity that build a trusted reputation.
GLOBAL COMMUNITY  Join a vast professional network of more than 125,000 charter holders worldwide and gain unmatched career resources, important relationships, and lifelong insights
What you will learn in CFA
The curriculum is organized into 10 general topic areas that provide a framework for making investments decisions:
Ethical and professional standards, Quantitative Methods, Economics, Financial Reportng and Analysis, Corporate Finance, Equity Investments, Fixed-Income Investments, Derivatives, Alternative Investments, Portfolio Management and Wealth Planning

The CFA Program is offered in a self-study format and is divided into three levels of exams.

The Certificate in Investment Performance Measurement – CIPM Program
The Certificate in Investment Performance Measurement CIPM® is an advanced credential that supports the allocation process and focuses on evaluating investment management skills, including performance analysis and attribution. The curriculum emphasizes the application of manager selection and dismissal criteria, ensuring that firms identify and retain the best talent.
The CFA Institute Investment Foundations Program™
Investment Foundations Program (formerly known as the Claritas Investment Certificate) covers the essentials of finance, ethics, and investment roles, providing a clear understanding of the global investment industry. It is best suited to those working in the industry in noninvestment roles, such as marketing, HR, and IT
Which Program is right for you
On this website you can find the comparison of all three Programs offered by CFA Institute, which answers you a lot of questions.
CFA Society Czech Republic
The mission of the CFA Society Czech Republic is to:
Promote the highest ethical and professional standards within the Czech investment community
Encourage professional development through the CFA Program and continuing education
Facilitate the exchange of information and opinions among people within the local investment community and beyond
Further enhance the public's understanding of the CFA charter and the investment industry as a whole.
Questions?
If you have any questions do not hesitate to contact us :
 Institute of Strategic Investments – belinda.buresova@isti.cz
 CFA Society in the Czech Republic – info@czechcfa.cz