Webinar: US – Czech Economic Relations in the Shadow of Covid-19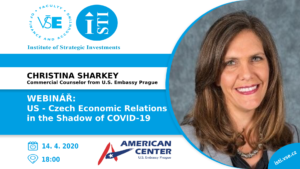 COVID-19 bude mít už teď velmi závažný dopad na světové hospodářství. Mnoho firem snižuje produkci, některé z nich propouští své zaměstnance a některé dokonce musejí své podniky zcela uzavřít. Jaký dopad má pandemie COVID-19 na česko-americké ekonomické vztahy? A co se děje s tokem zboží a investic přes Atlantik?
Připojte se k nám na webinář s Christinou Sharkey, obchodní radovou z Velvyslanectví USA v České republice.
Profil paní Sharkey:
Svou kariéru zaměřuje na poskytování ekonomických příležitostí pro americké podniky na globálním trhu, ale také podporu zahraničních investic zpět do Spojených států. Dříve pracovala jako obchodní attaché v Číně, Egyptě a jako hlavní obchodní referentka v Německu. Mluví česky, německy, francouzsky a čínsky.
Datum akce: 14. dubna v 18:00
Odkaz na webinář:
https://zoom.us/j/104311538
Meeting ID: 104 311 538
Tato akce je organizována Institutem Strategického Investování FFU VŠE (isti.vse.cz) a Amerického centra v Praze (www.americkecentrum.cz)
Těšíme se na Vás!
———————-ENGLISH VERSION———————-
COVID-19 has a very serious impact on world economy. Many companies are lowering production, some of them are lying off employees and some are even closing down their businesses. How does the COVID-19 pandemics impact U.S. – Czech economic relations? What about the flow of goods and investments over the Atlantic Ocean?
Join us for a video chat with Christina Sharkey, Commercial Counselor from U.S. Embassy Prague.
Profile of Mrs. Christina Sharkey:
She has focused her career thus far on providing economic opportunities for American businesses in the global marketplace along with foreign investment promotion into the United States. She has previously worked as Commercial Attache in China, Egypt and as a Principal Commercial Officer in Germany. Speaks Czech, German, French and Mandarin Chinese.
Date of the event: 14th of April at 18:00
Link to the webinar:
https://zoom.us/j/104311538
Meeting ID: 104 311 538
This event is organized by Institute of Strategic Investments (isti.vse.cz) along with American Center in Prague (www.americkecentrum.cz)
We are looking forward to see you!