MBA – Real Estate Investment, Development and Valuation
MBA – Nemovitosti a jejich oceňování (C-MBARE)
Two-years part time MBA Program in Real Estate lectured by the most experienced experts from real estate market and University of Economics.
Institute of Strategic Investments is pleased to introduce you the first MBA Program in Real Estate Investment in the Czech Republic, that was accredited at the Faculty of Finance and Accounting this year with great help of Institute of Property Valuation (IOM) and Institute of Strategic Investments (ISTI).
The MBA Program is covered in the Faculty structure under the Department for Corporate Finance and Company Valuation kfop.vse.cz
The MBA Program will be realized in Czech language with added lessons by English speaking lecturers in order to assume the English expressions commonly used in real estate market. The MBA Program is conceived as a four-semester internationally recognized lifelong learning program. The study is organized as a long-distance learning with expert consultations. The lectures are held in two-day seminars (Friday afternoon, Saturday all day) at the university campus in Prague 3, Square of W. Churchill 4 (Friday and Saturday). Teaching courses are provided by teachers of the University of Economics in Prague and other universities as well as renowned experts.
The MBA Program will take two-years of part-time studies and will provide students with deep knowledge from Valuation, Real Estate Business Modeling, Planning and Permitting as well as Taxation and Financing of Real Estate. For more information please download the brochure of the Program.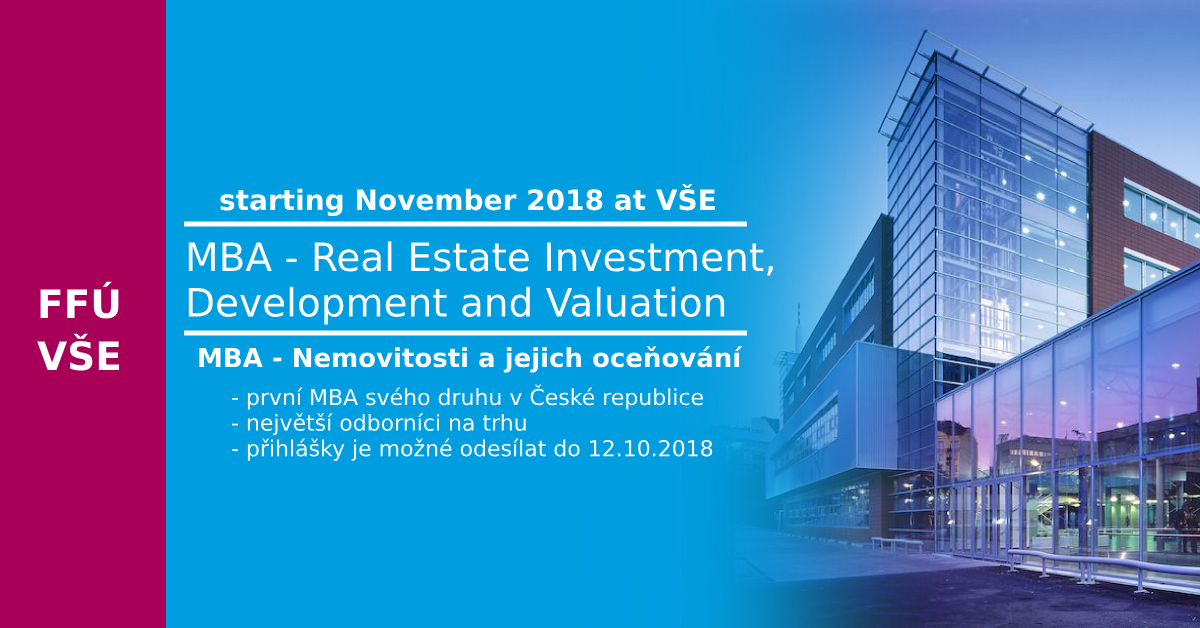 Applications and more Information
The MBA Program will start from November 2018. Applications will be opened from 13.09.2018 till 12.10.2018. More information about the application process, requirements as well as more details about the Program can be found on Department for Corporate Finance and Company Valuation.
KFOP: C-MBARE, MBA Real Estate Investment, Development and Valuation
If you are potentially interested in getting more information about the MBA Program before you fill the application form, please contact us under following emails:
Jaroslav Kaizr – Executive Director
jaroslav.kaizr@savills.cz
Jana Krakorova – Program Coordinator, VŠE – campus Žižkov, room 114 NB, tel.: +420 725 029 971
jkrakorova@rics.org
David Mazacek – Director of Institute of Strategic Investments
david.mazacek@isti.cz
Do not hesitate to contact us in case of any questions.